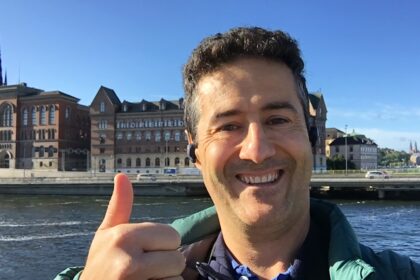 Dear Logbook, two hundred and forty-fifth day of a new life.
Today my diary a year ago that I was enlisting in the ranks of the KS ship to begin my expedition. Hard days on the high seas where the potions supplied had an effect.
A year has already passed! A year of changes, of novelties, of arriving on the Island and of trying to resume the life of before. That life that will never be the same. Is better. This changes you, my Diary, but it changes you for the better.
Sometimes I think how lucky I am to be able to tell. To change, yes, but I think for the better. If what is true that Hodgkin's Lymphoma, which yesterday was celebrated on World Day of this and other lymphomas, is together with a type of childhood leukemia, the cancers with the best prognosis today in Spain. A success rate of 85%. So inside the bad, it is not the worst. But let's think that for that 15% we should continue investigating. For this and all other cancers. And my Diary, if you read me, or others read me. Please, this cancer for those 33% who are not usually worth the first round of potions, usually resort to an autologous bone marrow transplant, that is, their own. If that's not worth it, then it's time for a donor marrow transplant. Therefore, my Diary,
"Become a marrow donor"
Anyway, what a mess. Today I do not intend to summarize the year, since it would take many pages of the Diary.
Today it was my turn to go to my beloved ship the KS. I rescue a fragment of my first entry in this, my beloved logbook.
This trip will be exciting because the end of it they say, that it is in a land full of joy and happiness. So despite the storms that come, all attitude we will have will be one of optimism for the hidden treasure on the island destination of the KS
And today a year later I fully share what I said at that time. It has been exciting. The Island, final destination, is full of joy and happiness. And I also believe that the attitude during the crossing has been one of optimism. This attitude has been thanks to all of you who have been there during this time. I know there are many of you, but I once again highlight my two families, the Valladolid and Burgos families, Eli, who from here I wish you a little respite from yours, Adela, Núria M. and especially whom on a day-to-day basis, he has been putting up with my goosebumps, my out-of-tune, my things That's Marta, my better half. The WOMAN who has been there all the time. Honey, I love you even more if possible. THANK YOU. Marta "stealing the words of Pau Donés from her last great song, I tell you:
That you give me
It's much more than I ask
All that you give me
Is what I need now
That you give me
I don't think I deserve it
All that you give me
I will always be grateful
So thanks for being
For your friendship and your company
You are the best thing that life has given me
On the other hand, another great news today. Today I had to go to the KS as I mentioned before to see how my analytics and my status were. Everything seems in order, so I am still in full REMISSION. It will touch review,  already at the beginning of next year.
And my Diary, just for today and for a while. Perhaps I will write you something in the next few days coinciding with important moments of my expedition.