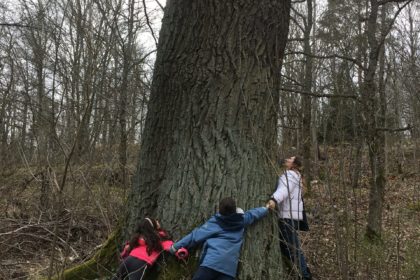 Dear Logbook, eighty-first day of a new life.
My Diary, do not think that I have forgotten you. It is not like this. Every day, when I have that little while in bed in which I thank once again for being a lucky person and being able to share my life with so many wonderful people, I remember you. The only thing that as I already told you, I think now is not the time to write every day. The sea is in that "relative calm" that makes this sailor not want or has something to tell you.
The current situation, my Diary, is not easy. It is not easy for many reasons, the main one is that we live in moments that probably no one could have imagined. And if on top of the beings you love the most you have them too far away, because it doesn't help. Those moments of "picking up" the phone and talking to them, makes at least the distances shorten. But my Diary, don't see how Marta and I both wish that "calm" stops, and we can have that smooth sailing to be able to come to Spain and be able to kiss or hug our families in Valladolid and Burgos. You know well my Diary, that in my case except those few 15 hours that I was in August, we have not been in Spain since June 28, 2019. If at least, due to my "incident" with Mr. Hodgkin, our wonderful families They were able to come see us at Christmas. But we long to be able to return to Spain for a few days. But today if it had not been for the "Bug" we would already be counting the hours to catch that flight IB3315 that would have transported us from our beloved Stockholm to our even more beloved Madrid.
Madrid, that land that welcomed both Marta and me. This land, which as a gateway to Spain for millions of people, has been severely punished by the "Bug." We cry with rage, helplessness, for this situation that is happening in our homeland. My Diary, be strong, those days when going outside is limited to going shopping, or going to the doctor and little else, will soon come to an end. Cheer up my Diary. From a distance, we are supporting you in what we can.
Today my Diary, I do not want to extend myself much. I'll try. Around here in Stockholm, our life is like the last time I wrote to you. It can be summed up, more or less in, getting up, having breakfast, if it is a daily day, accompanying the little sailor to school, returning, continuing to work from home, eating, continuing to work, picking up the puppet Gadea from the School, returning home , snack, dinner, sleep and the same. We try to walk the street a little. But I am honest, if the weekend we try to take a walk outside the city, we look for places where there are very few people, and if we can even make the purchase remotely. Today for example we have taken the car to go to the animal cemetery that I taught you long ago, Kaknasdjurgarden, where in a walk of approximately an hour, and about 3 kms, we will have crossed the field with about 15-20 people. And in everyone's spirit it was to leave a safe distance. Those moments in the air, make at least the day to day, more bearable. But contact with people is sorely missed. Today at least, we have given part of the walk with Jorge and Otto, always leaving our distance. But it makes this ride even more enriching. My Diary, I think that as I tell my friends, now it is necessary to be cautious, but not to fall into the obsession of full isolation. Leaving these safety distances, the possible contagion is minimized, I think.
On the side that I always try to tell you how I am. Well, of my ailments, few changes, neither for better nor for worse. The hands are similar, there is no longer tingling but the joints of the fingers continue to hurt. My ankles and Achilles tendinitis are still there. Perhaps I can say that the right foot is fine but the left is not. Jodiencia. From the knees, well better. I admit that I keep hitting the roller with the bike and I think it gets better and better. The other day, according to the program of the roller, I was "rolling" about 43 km. I rather stay with 1 hour and 20 minutes. What, my Diary, I recognize you makes me feel very alive. I am very filled with the thought that one hundred and thirty-two (132) days after my last session of potions received at sea (chemotherapy) my body I think I could get into a 60-70 km cycling session. While playing at home watching ducks, canoeists, and people strolling around our beloved Lake Mälaren. If as an additional novelty to these words I can tell you that again my great friend Luis did an interview to me, which I include the link here. After doing it, people told me they liked it, I don't know. It is of those times that in some question he caught me with a blank mind but when I was live I tried to answer what I could. If as I always say, here my Diary you have me for whatever you want. You know, and I think a lot of people know, that if I can help someone with something, here it is. (Interview from minute 65'35")
And now to finish for today. Here in Sweden it happens like everywhere. There is not enough protective material. And that is why I continue to contribute my grain of sand in this desert, making at home with the 3D printer, frames for protection masks, face shields. Last week I was able to deliver 20 to a health center, and about 60 to a company that manages this issue in Sweden. Today I was able to deliver another 118 more mounts. As far as my hand is concerned, I will continue helping them with this minimal contribution.
And my Diary, although I wanted to be brief, writing every so many days, lead me to write too much. I apologize for having written so much to you, again. But my heart, which as you well know, is the one that guides my writing does not always know how to summarize my thoughts. I'm sorry again. A hug from this little sailor for dried land..