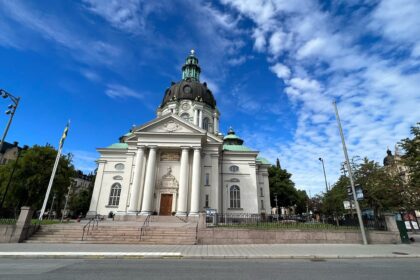 Dear Logbook, last page of this chapter that began back in September 2019
My Diary today is a very important day for me, it is more the emotion that overwhelms me while I capture my emotions, my feelings, they lead me to shed some tears. And why would you wonder? Today, yes, yes, I conclude the trip and therefore it is time to close the chapter. As to whether I will close the book, well, I don't know. For now, I think it is appropriate to leave it on a long pause.
And of course, what is the fact that leads me to be honest once again with you? Well, yesterday they called me from my ship, from the Karolinska Hospital to tell me that "tomorrow we will remove the catheter". And I said to myself, how? Now? But that I take a flight on Saturday to Spain? And they told me, YES, that's okay and it's now or wait until October, November, or when there is a slot. So, we decided to go ahead.
And here I am at home, somewhat sore, but happy. A new life ahead with nothing inside my body to remind me of what I've lived through daily. Of course, those scars are and will be there for life, but they will be like Gray hair, in this case they will not reflect wisdom, but the warrior's wounds, a memory that will continue to serve me daily to give thanks to God, Him, for me it has always been there. I say it and I will continue to say it many times, "Life is wonderful", so I recommend you, I ask you, I beg you to live it and value what really matters. In general, you have that at home with yours.
My Diary, a period of my life closes, but others open. Personally, Marta, that better half who is always there, without complaining, without questioning, supporting, and advising the crazy ideas of Grumete de Secano, I love you infinitely. Thank you for continuing to be there. The children, who are getting older, Martín is almost pre-adolescent and Gadea little by little being a young lady
We have made the personal decision that we will continue to live in Sweden, this land welcomed us, almost five years ago, with open arms. We are comfortable and we believe that despite being one of the most difficult decisions we have made in our lives, living in Sweden for many years is good for everyone. Having the family far away is something very hard, having friends far away is something very hard, but honestly, we believe that for the children and for us, it is the best.
You already know my Diary, that I am a chatterbox, nice, but that I talk a lot. I can tell you little more, difficult, hard, emotional days are coming, closing our house in Spain. It will be something strange that when we leave for the last time next week from what is our house, it will be for the last time. But like my diary, in life it's time to turn the page, and now is our time. The children will leave tomorrow from what has been their home for the last few months and when they return in August, they will return to what will be our new home, hopefully for many years.
Anyway, my Diary, I can only thank you for having been there for so long supporting me. My journey would not have been the same without you, I have been honest, I have been moved, I have cried, I have lived. THANK YOU. THANK YOU. THANK YOU.
Since it may take days, weeks, months, or years to start a new chapter, I want to thank most of the people who have been there during this long journey. Surely, I left someone out, I apologize, luckily there have been many who have supported me. So, thanks to:
Marta, Martín, Gadea, Dad and Mom, Carmelo and Isabel, Eva and Mario, Nuria, Andrés and Susana, nephews, Félix, Tito and Milagros, Tita and Alberto, Aunt Isabel, Aunt Ana, Loli, Uncles and cousins, Elisa, Nùria, Adela, MJ, Rafa and Paula, Johannes and Natatlia, Clemente, Carlos (CAF), Javi and Marta, Sandra and Nelson, the muffins, Elena M., Pablo and Arancha, etc. They are not all that are, sorry. THANK YOU, this journey would not have been the same without you.
It is for all these reasons that the time has come to anchor this chapter of this, I believe, precious life testimony of this Grumete de Secano.
I love you very much, I will never forget you, and please, Life is wonderful, enjoy it now, later it may be too late. Nacho, "Grumete de secano"