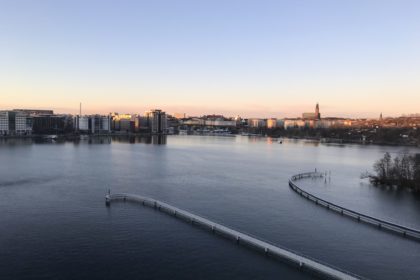 Dear Logbook, fifth day of a new life.
My Diary, How time goes by! It seems close and at the same time so far away that August 22 when they tell us on the phone that the biopsy revealed Reed-Sternberg cells in the samples. In the eyes of some these 151 days that have passed are many and it has become long. And in the eyes of others, to think that in just that period of time the disease has been fought seems magical. I am one of those … but more than in this short period of time but rather in the very short time that was since I embarked on the first voyage to the high seas (chemo session) that September 16, 2019 until that October 21 when They did me the PET-CT scan and it reveals a complete remission with a Deauville rating of 1. That is, the lowest possible rating.
That seemed magical to me. Only 35 days … If it is true that until a few years have passed in which the same magic words of COMPLETE REMISSION are repeated, there will always be that risk. What the KS Captain (Dr. Palma) told us is very high.
My Diary, reflections of your Sailor on this morning of January 20, 2020.
Today is a fresh day. With positive temperature. Yesterday at the end I went running, they were about 8.3 km. And then with the theme of taking Gadea to the birthday and picking it up, almost 15 km of bike left with slopes. So I don't complain about the exercise done.
Today, after leaving the little sailors, I will go for a walk, and I think I will approach my dear ship KS. But to another area, an area that when you step on it makes you think about how unfair life is. To the area of childhood oncology. You know my Diary, which I brought some boxes of the #ChemoBox project to see if they liked the idea. These were plastic PLA. According to its sterilization protocol, it cannot be with alcohol as they carry the reliefs of the drawings. It must be by steam or dishwasher at high temperature. The PLA test boxes, as expected, could not stand. Now I have made others in ABS and PETG plastic that are supposed to withstand more temperature. If this test does not pass. Well, with all the pain of my heart we will have to say that at least on the KS ship it has not been possible to implant and help those little fighters in their day to day on the High Seas. Too bad they are not worth the protocol that in Spain of It is safely used and such a good result is giving. Anyway, as I said in that day. I want to try it for them. That if in the end it is not possible. Well, at least this Sailor will have done everything possible that was in his hands. The rest of the day, then get home to have lunch and rest. In the afternoon go to the little sailor to school.
And my Diary, I tell you little more today.