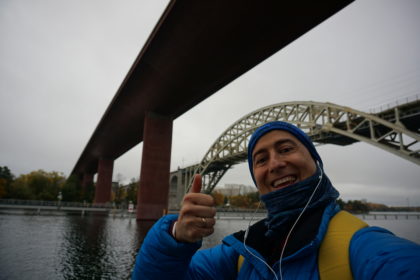 Dear Logbook, eleventh day of the second trip.
Yesterday after the bike ride, which was super nice to get to that Royal Summer Palace, I did what I told you. Snacks, dinner and go to sleep.
Tonight I slept enough for what I was used to, about 6 hours. The clock tells me that they are not all of deep sleep, but at least I have not been reading for a long time. Something that is great.
The day has dawned with light rains. We will see how they are, in order to take a walk in the morning or we have to wait for the afternoon.
Prepared the breakfast meals of the l sailors that we stayed at home. After leaving Gadea at the School, moment to work a little, cook for lunch and go for a walk. Another day I tell you what I usually eat. Very associated with raising defenses and trying to alleviate anemia. Since the ground crew will come in the afternoon. That they have to bring me many magic potions, since they are running out. And to extract that precious red liquid. Today we will know how I am defending (we presume that you go down, because chemotherapy shakes them) and also how we have other values such as hemoglobin, which was already in anemia values a week ago, despite being able to continue doing enough exercise. I'll tell you tomorrow.
Then wait for the food to be brought to us for a few more days from the grocery store. And shift as usual, snacks, dinner and go to sleep.
And my Dear Diary, we continue advancing with a firm step towards that island dreamed of joy and happiness.