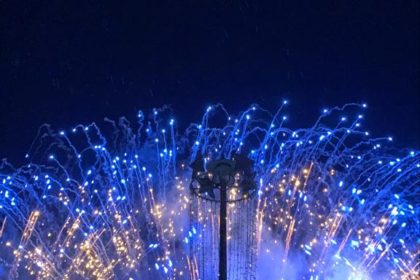 Dear Logbook, twenty-fourth day of the fifth trip.
Yesterday we closed a special year in my life as I said. This year 2019 that we closed yesterday has been a year let's say different from my previous 42 years. A year that insurance due to cancer will have made me stronger mentally. I guess my beloved Marta too. It is not a simple expedition for both. We are each living it in a different way. But basically, the most important thing is to do it together. Marta, I know I'm a heavyweight, I don't know how I could have endured this expedition without your company. I love you so much. I tell you less times than you deserve. Let us think that this 2020 that we started a few hours ago will be a year in which we will see life with a different point of view than we did 365 days ago with 2019. Honey, this 2020, will be even better than 2019. The past has been tough, but it's not a year to forget.
Another thing we did yesterday to close the day, is to go downtown to see the fireworks in Stockholm. A walk to go, and another to return. We close and start the years 2019 and 2020, walking. My daily activity since that September 16. The fires and the show was frankly very good. It was worth it. The countdown to the end of the year, because with the mythical song of Europe, "The final countdown"
Today the day dawns but with clouds. We will go and:
JOGGING
Yes, my Diary, I want to start this year, this decade doing something that I miss so much. It's not that I love running, I don't love it. I prefer to swim or ride a bike. But that feeling of being able to run next to Lake Mälaren even if it is a short distance I will surely enjoy and cry for it. It is like the beginning of a normality that will not be so in this 2020. I know that normal life that I had until May 2019, I will never have it again. But that is not why this new life is worse. On the contrary, it will be different, but it will be better. That is sure. I think so. And if I believe it, it will be that way at least for me. I know that since this expedition began I will have those doubts about whether my "friend" will return to me. But I know that, at least, from now on I will be more controlled and I will not face something new or unknown. In this year from the sporting point of view there are no objectives. It will be a year that will go out as you see. Now there is a long way to go so that my physical form for running, swimming or cycling can be what I had in 2018 or earlier. It will be a "Train for pleasure" or as it could be in English "train for fun".
Anyway, my Diary, today will be another day of this expedition, another day like the previous ones in a great company. One more day to be able to thank you for being able to continue enjoying how wonderful life is. Yes, life with its ups and downs is wonderful, and we should give thanks for being able to live it. Let's value it as it is. Give importance to things that are real, health, family, friends, and less to the material. Those are at least my purposes and I look forward to my way of being and living since January 1, 2020.
And I think that for today, my dear Diary, nothing more.