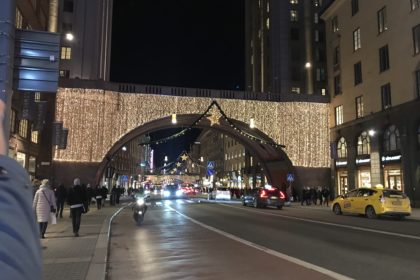 Dear Logbook, nineteenth day of the fifth trip.
These days are being a blessing. This Christmas, of course, they are and will be unforgettable. This travel companion I have, cancer, makes them more special. The fact of not being able to travel to Spain and that the family has done it to Sweden, is something we can never forget. There is less left to catch a means of transport. I want to point out that of all the means of transport, one of the most dangerous for a person with the compromised immune system is the plane. Normally the space is reduced and I would spend many hours there. Thus, the risk of catching an infection in an airplane is higher than other means of transport. These days, then to be able to show the city to the family, I am walking along with them. When someone is more tired, it becomes public transportation. I'm still adding kilometers to my legs. I have been walking a little more than 800 km since September 16.
Today we will go for a walk in the morning with the idea ofgoing to eat a hot dog in one of the most famous places in the city, Gunter's, for doing something different. In the afternoon we will go to another place or rest.
Me while I'm still the same as in days gone by. Sleeping almost all these days between 7 and 8 hours without the help of pills or infusions. And getting up rested that is the most important thing. We continue on the expedition waiting to reach the dream island on January 15. Meanwhile there will be the controls of the precious red liquid thanks to the extraction made by the ground crew. The case is to keep checking how the defenses are going, how is the Hemoglobin and platelets, etc.
And my dear Diary, tomorrow maybe more.