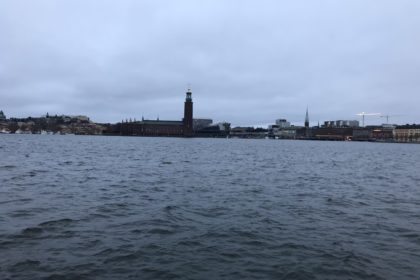 Dear Logbook, twenty-first and LAST day of the fourth and LAST scheduled trip.
My dear diary, the fourth cycle of scheduled chemotherapy ends today. Today is the last day of this trip. In these twelve weeks, 84 days have happened many things. Many emotions found. Many tears, almost all of happiness, some, the least of sadness. Now as of tomorrow we start what we could call fifth trip. A trip with an established end date to reach the island or start a sixth trip. This trip will be 38 days long. With a very important intermediate milestone, on December 18, we will have the control TAC. In between is the time to recover physically. Psychically, I think that at the moment I follow 100-110%. It is time to continue like this.
Tonight I have taken the infusion again. I slept about 6 hours continuously, this time. Then at 5 AM I didn't want to sleep anymore. I don't complain either.
Today the weather will be weird or not for these places. It will snow, or so they say, a little and then it will rain. We will take a walk from home to where we have met with our friends Rafa and Paula and their little sailors. To spend a while before we say goodbye until 2020. After lunch we will play bowling for a while. And then, ale, to stay with another family for a snack. Marco and Ana's turn, close to our house. Then time for having dinner and prepare things for the beginning of the week.
Today I wanted to bring something that is sometimes heard and sometimes not. These are tips that friends and family should give or not give to people who go through something hard such as this cancer disease or cancer. I know that whenever one of the tips is given or phrases are said they are said from love. But well, I think it is worth summarizing it here. I have taken them from the Facebook page of a Hodgkin Lymphoma Support Group https://www.facebook.com/Group-of-Linfoma-of-Hodgkin-442789325834004/. They have taken it out of www.oncoayuda.org
Avoid medical advice and opinions about what you should do or not do.
You will make him/her feel better if you treat him and talk as you normally do.
Many times all that person wants is to be heard.
Get organized and accompany him/her to his medical appointments.
Do not overwhelm him/her with cancer questions, there are other topics of conversation.
Let him express his feelings, let him cry, yell, it's normal for him/her to have bad days.
Give it your space.
Do fun activities that can be distracted, laugh and enjoy.
From here, I repeat, when this is heard, I know it is from love. Don't get mad at me Dear Diary. But well, everyone, I first say it or have we ever said. Another day I will upload a link to a video of a woman with similar advice or that has happened to her and to almost everyone who suffers from cancer or several rare diseases. She also went through a Hodgkin lymphoma. One of them that I advance is that there are people who do not contact since they have knowledge that someone has cancer, "not to disturb". In general all those who go through this, we greatly appreciate that people contact us. That is why I give a thousand times thanks to all who have done it. You don't know what is helping me in this expedition. If you have doubts. Contact If the person prefers you to do it later, he will tell you. These are moments, in general, of feeling clothed. How much better! It is my advice.
And my dear and faithful Diary, tomorrow with the beginning of that fifth trip, surely there is more to tell you.