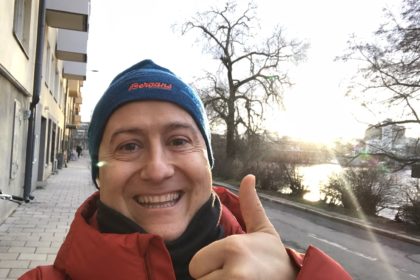 Dear Logbook, nineteenth day of the fourth and last trip.
Yesterday in the end the ground crew arrived later than normal, so after taking the precious red liquid, I prepared to make food and eat. Then it was the turn of the ride. I gave it a little longer than I had been doing this week. I reached my classics 10 kilometers away. In the afternoon, rest and study.
The analytical results reflect a very slight rise in hemoglobin, from 93 to 94 g / l. Ascent after all. Of the values of the defenses, as expected have risen and are almost at the minimum recommended. On the way home I bought chicken livers, which I cooked with onion and garlic. I had never tried them. I'll tell you when I try them today. Everything is to help my body to raise the iron.
The night has been like the past. Resting and sleeping about 7-8 hours.
The day has dawned with rain, so after leaving the little sailor Gadea at school, a language study shift. Then instead of walking, I will take the bike, because I have to run errands at the other end of the city. Depending on how it rains, the route will be longer or shorter. In the afternoon we will meet a Spanish friend, Rosa, and her children. These are classmates of Martín and Gadea from the school. And then the typical of the afternoons, rest until dinner time. But as it is Friday, there is no hurry to go to sleep.
My dear Diary, how little is left to reach my long-awaited island.