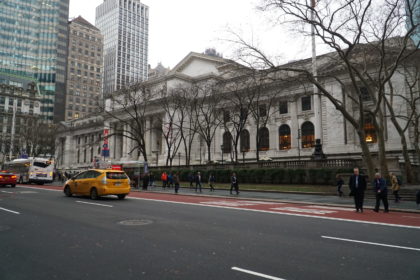 Dear logbook, forty-third day of a new life.
Yesterday, my diary was a day where the little sailors behaved in a wonderful way. We were walking about 15 km according to what the mobile says. The fact is that we left the hotel before 8 in the morning and which New Yorkers had a coffee and a donut for breakfast in a street cart. From there we walked to the Vessel, those hive-shaped stairs. Then we toured the entire "High Line". An old elevated railroad track, which has been converted to a garden. Then take the subway to reach Chinatown and little Italy. Where we ate and then took another walk to the iconic Flatiron building, which was with scaffolding. There we already took the subway to get to the hotel, make a stop and then in the afternoon go out to see Times Square at night. Another day that we have not rested much.
To see the pictures of the blog, go to
Nueva York, 27 de febrero de 2020
Today my Diary, we may see fewer things, but they will be very cool as always. From the hotel through Central Park we will go to the natural history museum. And then God will say, we may go to the top of the Rockefeller Center or the Empire State Building to see the sunset and city lights from above.
For my part, few or no changes. The heels is what hurts the most after a long time walking. It is to stop me and to return to the march is a very sharp pain. Otherwise, few changes.
And my Diary, tomorrow Friday something safer. From the city that never rests.