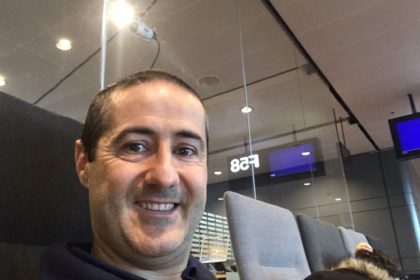 Dear Logbook, thirty-ninth day of a new life.
Today my Diary is the day we had marked for at least 5 weeks in the calendar. Today we embark the whole family on a journey of celebration, of celebration for having arrived all together on that Island that we longed for since that August 22, 2019. It will be 6 different days, six days in which we will see another great city, we will see and enjoy from another culture, from another continent. There in New York, that great city, we can enjoy some family days away from the surroundings of Sweden. I don't want to say it's a bad environment, but we need a change of air. They have been the hardest months of our lives. And that is why this trip will come to us very well.
Today in a while we will take the plane whose route to the grumetillos and Marta will be the one with the greatest distance and flight time to date. We will pass through Sweden, Norway, Iceland and Greenland (Denmark). About 8h flight.
For my part my diary. Today also ends a stage. Today I have taken my last pill of Bactrim scheduled. I started taking it at the end of September and it's been more or less 3 months since the last chemotherapy session. And today I stop taking it following the doctor's advice. Now I will only continue with vitamins and supplements (turmeric, Vitamin D, and collagen with magnesium). For my part without news. In this week I did not go running again. I want to do it in New York, in Central Park. I want to run through that mythical lake that is seen in many movies. And why not, dream that one day I will be running through New York Marathon. My diary, you know that I have told you that at least I want to run one more Marathon in my life. And that will be to raise funds to help children with cancer. I already told you there are no dates. In these weeks since the end of chemotherapy I have been able to verify in my own body that the potions received on the high seas are very powerful. Leaving many sequels in this little body. I have been seeing that one day I can run 15 km without discomfort and days later I run 5 km and my whole body hurts. It will be months of ups and downs. So that Marathon will fall for sure. The children deserve it, but I'm sorry I can't give them a specific date to help them. Who knows, my diary, if I will play the dorsal draw to run the New York Marathon, if I would have to try this year. My Diary, dreaming is free.
And for today I think I won't tell you more. Tomorrow I will write to you from another place, another place, another continent, but surrounded by the people I love most in this world.