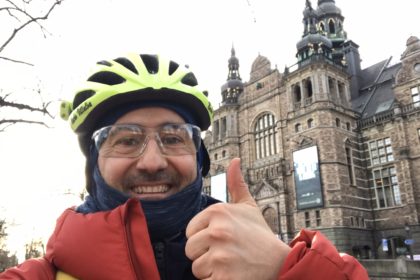 Dear Logbook, the ninth day of a new life.
My Dear Diary, yesterday was a day without great news. On the morning bike ride I went through already explored areas, but I like them for being quiet. Lake Nacka, then crossing the city to the island of Djurgarden, to end up in the office to have lunch with my better half. Upon arriving home more or less I traveled in the day about 40 km. Happy. In the afternoon Marta and I then emptied some more boxes. There are very few left.
Today the day is presented with a higher temperature than yesterday. Today we have breakfast earlier than normal days, because we must reach the pool before 8.15AM. Time in which the small groups of the class of Gadea have to enter the locker room, because at 8.30 they start their swimming lessons. Cycling to the pool and returning home is a bit of morning exercise. About 7.5 km. Then I want to go jogging, today it is not necessary to try how the heart responds to a greater demand for pace. Today will be jogging day. Quiet pace. I don't know how long I will be running or the distance. Run for sensations. Run for fun. Continue recharging the body and mind. There are less days left, to return to the office. After running, then turn to rest at home. But trying to do pending things. And then in the afternoon it is time to think about the weekend. For me the weekend is the time to be all together. Time to enjoy family and friends.
And for today my dear Diary, nothing more.