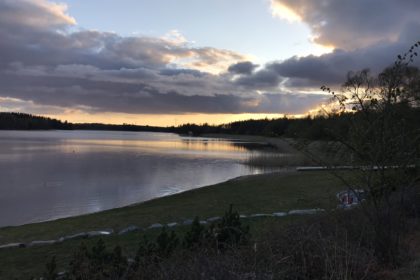 Dear Logbook, one hundred and fifth day of a new life.
My Diary, today was my second day at the clinic. The night was not as expected, that is, I slept little … Something that has been a common denominator to my fellow travellers. At dawn, what was the surprise, that it was all with some snow, not much, but it has been snowing for a long time.
After breakfast it was time to go to a talk about the clinic in Swedish. After that came the day's gymnastics turn of the day, which was very good. And Later it was time to talk to the Captain of this boat and because of that, I missed the pool gym session. Tomorrow I am not lacking.
And now it's time to go eat, it's at 12.00. I am taking the opportunity to eat fairly healthy, that together with exercise and not snacking between hours, I hope it will be noticed when this journey ends on May 8. After lunch, with a cabin boy from here we went for a walk of 8 km. It started raining but then it was a very good day. After arriving from the walk, he touched a moment of rest in the room. After that, he played a relaxation session, in Swedish, I still don't understand a pope … but I dedicated myself to breathing slowly and, frankly, lying down, with a blanket and relaxation music, was what it was for. I continued with the puzzle for a while.
At 17:00, it was dinner time. Healthy. Or so I think. After dinner or snack … a puzzle time and another walk, but this time only 6 km. When we arrived, my walking companion and I went to the dining room … to see if there was any Fika left in the afternoon. We had at least, red fruit smoothie. And then on to the room.
And regarding what is my planning, here I pass the photo of it for this week.
And my Diary, tomorrow more. I continue to write to you from this historic Swedish village.