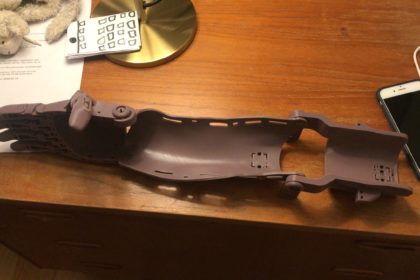 Dear Logbook, fourteenth day of a new life.
Yesterday my Diary, in the end the one who thought it was going to be a quiet day, was not. In the morning, as soon as I arrived to accompany the little sailors to school, I put on the hand prosthesis. I got it assembling before I started to make the meal. Then it was time to go to the dentist with Martín, accompany him home, go back to Gadea and go to the doctor with her and go back home … in total almost another 16 kilometers of bicycle. Already in the afternoon it was time to mount the chair so that Gadea would be more comfortable and safe on my bike. And after finishing installing the wires in the prosthesis in a way that allows the fingers to close with the elbow. It is something that makes me especially excited about the fact that I can give one of the most important uses to the 3D printer.
Today, my Diary, after going back to sleep for about 8 hours we will return to this routine in which I have been there for a while. Go to school and then return home. Already at home, I don't know if in the end I will be encouraged to exercise or not. On the other hand, I wanted to try to finish assembling the prosthesis, so that only small fringes are left or not. Today the day will be gray again like yesterday. It had not been raining for a long time, due to that I didn't talk about snow. This winter is the strangest thing we have seen in the 3 that we have already been in Sweden. 0 centimeters of snow fall so far this year in Stockholm !! And we are talking about the fact that about a year ago there were already the frozen canals and lakes and there was snow on the sidewalks. Anyway … everything in February, March it could drop the biggest snow fall in years.
For my part my Diary, I remain the same, without major changes. Perhaps some discomfort in the left knee, I think it is the result of carrying more cargo behind my back with the bike (Gadea) and not having used my bike for it, so it was not adjusted to me. I think that's it, we'll see how it evolves. As for my side effects, as the most visible was the lack of hair, it is on track to be short story. At the level of eyebrows and eyelashes, we could say that they are like before trips to the high seas (Chemo sessions). At the level of a beard, well a lot but perhaps with many more gray hairs. And of the part of the head, because little by little it is covering everything. Please do not say that "See, I told you, I would go out again." That phrase is something that almost everyone who is undergoing chemotherapy knows what will happen. That the hair cells are among the first that are affected by the potions. In my case it only took 10 days for it to fall tuft. Well, as it is something that we already know is going to come out later, but it is we who suffer that fall, because we do not usually like that in front of a complaint/comment about us that it is falling, well to say… "you see, that comes out". I say so, so that, my Diary, if you have a friend or relative who is going through this, don't tell him, really. We don't like to hear it. Of the other side effects, the least visible, because neither forward nor backward. I don't notice changes in the hands. Remains the same. As my great and good friend Eli says, we only have FUCK and PATIENCE.
And my Diary, I think for today nothing more. Today it has been 2 weeks since we were confirmed by Captain Palma that she was in complete remission.