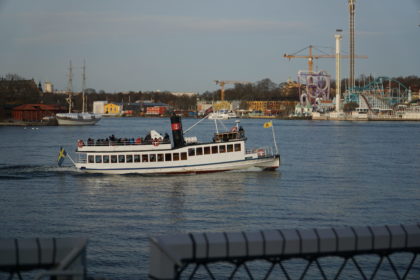 Dear Logbook, eleventh day of a new life.
Yesterday at the end there was a change of plans, because our friends were a little sick. After making the grocery and having lunch. We rested a little and went to see if a German Navy frigate that had docked in Stockholm was open to the public. And we took the bikes and there we presented the four and yes, it was open to the public. We were able to access it and be able to tour part of the main facilities. Areas where fast-acting vessels are located, the bow canyon area, the command bridge, etc. We loved it. Little sailors seemed very cool. They had never visited a warship before. Hopefully it never goes into service for the initial purpose. Then in the afternoon Elena and Uge came home. Another great afternoon snack. Then it is time to have dinner and go to sleep.
Today, my Diary, after having breakfast with the little sailors, I hope to jog a little. Something short and we'll see if intense or not. Today, a priori, will be relaxed. But well, everything will go. Tomorrow it is time to return to the routine of the beginning of the week, and it will be my last week of medical leave before joining February 3.
And my Diary, for today nothing more.