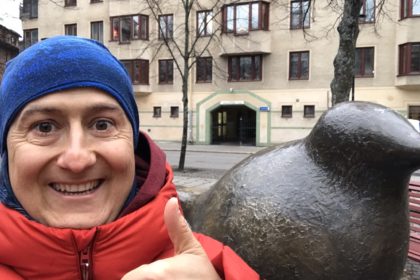 Dear Logbook, eighth day of the fourth and last trip.
Today I slept less than I had been doing. Today, as for the voyage at sea, it is not something new, it is more, it will be a short crossing, less than an hour long. Perhaps it is a mixture of many factors that has caused him to have slept about 5 hours and a half.
On the one hand, having arrived, against all odds to be able to say that today is the last day of chemotherapy. That in the best of all possible plans, joining everything so that there were no problems, today would be that day. Yes, maybe those non-latent nerves, because I can say that I am calm, but with that mixture of crossed feelings they have made my night with a shorter dream.
My Diary, to arrive today, I can promise you that I have given everything that could be given of me. I have followed "to the letter" the indications of doctors regarding issues of potions, exercise, hygiene guidelines, etc. I have been eating everything that I have been recommended, read, etc. so hemoglobin levels and defenses could be better. I liked it or not. In this hard, very hard expedition it didn't fit for me, any excuse of being able to say this I don't do it because I don't like it. Marta, Martín and Gadea are and will be that engine for which I move and have moved. I could not let them down. I know that in this walk with cancer, many things are not in our hands, but in what it has been, I have done so and will.
Marta, today has come that day to receive the last session. Thank you for all this support during these months. I can never thank you enough.
Martín, today you are not going to read it, but I hope that one day you will read it. I can never forget those words of an innocent being when I asked you weeks ago about whether you had any questions or wanted any further clarification or explanation of the disease I suffer. And you answered the following in such a beautiful and simple way, "Dad, I don't need more information. I just know you're going to heal." Those words made me and make tears come from my eyes right now.
Gadea, the little one of the family. Deep down you know that Daddy is sick and is healing. Of course I tell you from time to time and I growl or scold you more than you should. When you grow up you will read this Diary and you will better understand the expedition in which I have embarked so many people.
Another engine to continue rowing, blowing those sails, is and will be my family. I know that when we told you that September 4th that we decided that the treatment would be in Sweden, it was like that second jug of cold water that was poured on you. The first, hearing from me, "Parents, I have cancer," and the second to tell you, we believe it is best to start here as soon as possible. This enormous distance has not made us not physically together, but I have felt you near, very close, from Valladolid, Burgos and Madrid. You have been in everyday life. You have supported me and encouraged me a lot. I have encouraged you when I noticed you with the lowest morale. And I was telling you, come on, this is how my uncle Alberto told me, "Nacho, think about it like that, it's worse than a cold, but it can be better than pneumonia." For you, I have also fought to the fullest.
In short … with tears in the eyes. I tell you all. Thanks a lot for being there. This expedition is not over, it will be in years. But at least we can say that it seems that it is well on its way. But cancer, this disease of the 21st century, is capricious and can return. But if so, I promise you all, that the spirit of struggle and courage will be equal or superior to those of now. I will not let you down or let you down. I promise you.
My Diary, after this moment of confession. I think I'm going to tell you what it might be today.
Now at 5.44 AM, as I write to you, logically it is night. The day is not expected with rain, yes a little cooler than usual. After making breakfast at the groceries, my dear "poppets", it will be the turn of accompanying them to the School. Then I will walk a little, not much, a little less than 6 kilometers to get home, study foreign languages, make food and wait for about 12.30 PM to pick me up the carriage to the dock. There I will embark on the KS ship, for God willing, set sail for a long time. The voyage will be as I told you before, of the short ones. Today I only have to receive two potions of 15 and 30 minutes respectively with time in between for the injection of liquids that clean my veins. When I finish, I would like to speak with the crew and thank them for all the attention they have had with me during this period. Then, turn to take another carriage and take me home. In the afternoon, then turn to rest and normal routines.
And my dear Diary tomorrow surely much more.