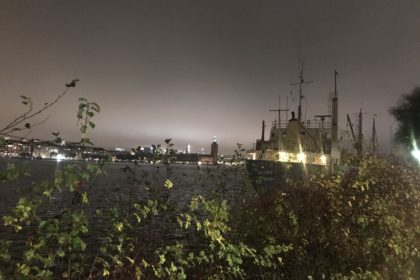 Dear Logbook, fourteenth day of the third trip.
At the end of the night, like others that I have already had, sleeping more or less from 22 PM to 4 AM and then, since I could not fall asleep, I started reading and at about 5.30 AM I fell again until almost 8 AM . With what I am happy. Bone pains due to injections there are no glimpses. With what one issue less until the next injection time, on November 25th.
The morning is presented as the day ended yesterday, with rain and novelty, of the first snowflakes. I have gone out to Ca-Tro. What we could say is to walk a little and jog a little. It has been under the first snowflakes of the season. What happiness! Then we go to some friends' house to enjoy a great meal and spend the afternoon. That way the little sailors will have fun with their friends, and so will we. Then it will be time to prepare things for tomorrow, which we started the third week of this trip (chemo cycle). And prepare dinner and go to sleep.
I want to remember again what my trips are like (chemo cycles). These are three week trips. I started on September 16. In each cycle I embark on the KS ship at sea (chemotherapy sessions) to receive the potions, according to BEACOPP scalated protocol or method. I receive the liquid potions in 4 days, the first, the second, the third and the eighth of each trip (1, 2, 3 and 8). The first being the longest, about 4 hours long, the second and third, of 1h30 and the fourth day of the high seas, coinciding with the eighth day of ´trip, the shortest. Only one hour long. For the rest within each week of the trip, every Thursday the precious red liquid (blood) is extracted to ensure that the values of the white blood cells (leukocytes and neutrophils) and the red blood cells (erythrocytes and hemoglobin) are in order. They also control platelets and more. And then on the 19th day of each trip, we have an appointment with the Captain who controls the issue of potions administration, to summarize how the trip is going and start if the next one proceeds safely. And that's more or less how each cycle goes.
Today little more to tell you. Daily, maybe tomorrow more.