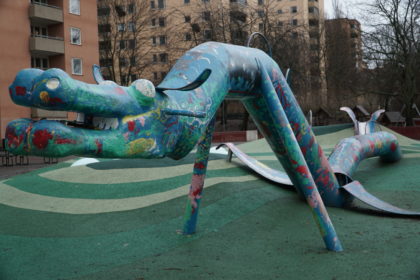 Dear Logbook, seventeenth day of a new life.
Tonight, another good night's sleep. The little sailor Gadea has already passed his cold and that helps a lot. Today as Saturday it is, then turn to make the grocery for the week. Then make the lunch and continue preparing for the return to work on Monday.
How far and how close is that September 13th. Day I left the office with my things to not work there, because chemotherapy began days later. For a while I was combining trips to the high seas with working hours. Until the month of November when finally my legal situation was clarified regarding the sick leave. It is not in Sweden where it was processed it was in Spain. My country, where the situation of being able to be off days and days of discharge is inexplicably not allowed. So that the process of working and resting without being aware of the attending physician and presenting papers, etc. is agile. As I understand it. In the same way that on Monday I will join the office with the end of sick leave from today 1. But as the sick leave has been in Spain, the end of it too. But 100%, that is, in my case of 40 hours per week, because at a rate of 8 hours per day. Situation that in case of following the Swedish regime would be with a 50% incorporation, 4 hours a day for a while and according to my body and my mind they would respond to 75% and then 100%. Things that make it more bearable from every possible point of view. In this country with so many bad things, it also has so many good things. And one of the most prominent is the attention to people.
Yesterday my diary, related to my return, already confirmed the dates on which I have a place for the rehabilitation clinic. That is, it is going to a clinic where they will worry and help me with my physical and psychic state. Help me how to continue on a daily basis and make everything simpler. There I will go two weeks, from Monday to Friday. Everyone from the hospital and who knows it, has encouraged me a lot to be there. That I could use very well. So if during my expedition I paid attention and all the staff of my KS ship went well. Well, this time I will continue to do it again. I have been told that in the German world, understanding that by northern Europe is something very much to use. That it is understood that after a cancer treatment, a serious illness, etc. Well, a rehabilitation is recommended and is scheduled. Already in May I will tell you how it went. There are still many weeks to start it.
And my Diary, what else to tell you. I physically remain the same, there are no improvements or I don't perceive them. Encouragement, as always. I suppose returning to my routine before this expedition will help me even more and I will have less time to think about my fingers, my arms or my heels. The parts of my body that every morning I remember them well.
My Diary, tomorrow I will tell you something else.