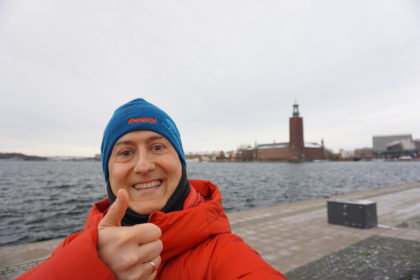 Dear Logbook, 15th day of the fourth and last trip.
Yesterday the morning walk was somewhat shorter, from home to the boat that took us to the restaurant. Short walk, cool when there was some breeze, but nice. Then the trip on the boat was fine, short, because the restaurant is on my beloved island of Längsholmen, summer residence of Lars Olsson Smith (https://en.wikipedia.org/wiki/Lars_Olsson_Smith) as we were told in the restaurant, this man is famous for ABSOLUT vodka. He was its creator. It had also been the house of the prison director. The typical Christmas food of Sweden, where in buffet format they put herring in many forms, sausages, cheeses, salmon in many different forms, tuna, meats, various types of cabbages, etc … more than a dozen dishes where you can to choose. And then turn desserts, ice cream and treats. The most important thing was not to eat that food or in that house, but to do it with Paula and Rafa and the children. Those moments that are shared are the important things in life.
After the meal, it is time to return home for a walk with cold weather. We rest a little and prepare the meals for dinner.
The day dawns with only -5º, little by little these days remind us that winter is getting closer. I have rested for 7 hours. As Marta is still on vacation, after leaving the Little sailors at school, we will go for a walk, then do things at home and enjoy the company. I will try to study languages.
As for how I am, today I start what will be my last week of the last cycle of chemotherapy. That from the point of view of medicines is the turning point to stop taking my 75 mg of prednisone for a while every day. This potion was taken the first two weeks of each cycle, resting the third, is part of BEACOPP chemotherapy, one of those P, is prednisone. Well, from today another less. Good!
And my dear tomorrow something else.